Ladies, this guide is for you! Sedona Arizona is a beautiful place full of every activity your group could want. If you are looking for more of a relaxing girls weekend or a few days of active outdoor adventures, this guide has options for all your getaway needs. This guide is completely open to self-customization, but it is a truly comprehensive schedule of the most unique and fun things to do in Sedona. Now, this guide can be a bit overwhelming just looking at the map, considering the number of scheduled activities and restaurants. So, I am going to highlight few key foodie spots, activities, and lodging included in the guide that are truly unique to Sedona and that I recommend checking out when planning your trip.
Lodging is never an issue in Sedona, it is completely up to you with many comfortable and glamorous options to choose from. If you are looking to have more of a luxury spa stay, and plan on spending a good amount of time at the resort, I would recommend the Armara Resort and Spa. This place definitely has that wow factor and is simply stunning from room to lobby to pool. Equipped with beautiful rooms and gorgeous views, as well as a spa at the ready!
If you are in Sedona to spend your days conquering outdoor adventures and plan to spend a lot of time out of your room, I recommend the Sky Ranch Lodge Resort. Just at beautiful as the Armara in terms of views, but a more budget-friendly option in the heart of uptown Sedona.
Activities is where Sedona shines. Sedona's landscape is truly one-of-a-kind, it makes any outdoor experience just that much more unique, and its small-town vibe attracts so many cute boutiques and family-owned businesses. It was hard not to mention every activity on the guide because they all shine and stay unique to Sedona. But alas, I do not want to keep you reading all day so here are my top 5 activities to do in Sedona.
Horseback riding offered by Wild Western Horseback Adventures is just such an unbelievably fun experience that you will never forget. The horseback tour will take you through the terrain of the historic Camp Verde located only 30 minutes outside of Sedona. They accommodate any rider level, so even if and your group have never even seen a horse, this could still be an awesome option.
Also coming out of Camp Verde is the Water to Wine Sedona Kayak Experience offered by Sedona Adventure Tours. Basically, you take a guided kayak tour down the Verde River with your gal pals till you reach Alcantara Vineyards, where you indulge in an inclusive wine tasting. Come on, if that is not unique then I do not know what is! They also provide you a shuttle, so do not worry they will not make you paddle back after all the wine.
Next up, Red Rock State Park. Red Rock State Park is one of the most famous tourist attractions in Sedona and it really is a must-see. Red Rock State Park has 5 miles worth of hiking trails through Sedona's lush landscape around Oak Creek, so it will not be 5 miles dead in the Sedona sun. Also, if you make it up to Eagles Nest, the highest trail point, there are amazing views of Sedona's big red rock formations that surround the trails. I recommend this spot mostly because of how inclusive and customizable you can make this excursion. It is also very close to uptown Sedona, so I am not dropping you off to some long sun-beating hike and an hour+ drive back home, been there, done that, not fun.
What is a girl's getaway without a spa day, or at least a spa recommendation! If you and the girls are looking to relax and unwind, Sedona's New Day Spa is certainly for you. If you do not stay at a hotel with a spa included, then Sedona's New Day Spa is the next best. It has great prices for any kind of pampering you and your girl gang desire. Nails, massages, facials, you name it.
The last activity I am going to mention is far out. If you thought the Verde Kayak Wine tasting was unique, then you are going to love this one. Only accessed by reservation, Sedona UFO tours offer UFO sighting tours in the evenings in the Red Rocks of Sedona. Definitely, a cool and different experience in Sedona, which is honestly a blast. If you are not into UFOs and alien suspects, no worries, there are also stargazing tours offered. Sedona has one of the most beautiful views of the night sky that you will find in the U.S. and these tours take you to just the perfect spot.
Now for the food! The food scene in Sedona is extremely underrated. They have some of the best Latin food your tastebuds will ever touch at the Mariposa Latin Inspired Grill. With a delicious array of food and extensive wine menu, you cannot go wrong with Mariposa. This is a place to go if you are feeling fancy, they do have a dress code so be mindful of that and check out their website before you go.
Another option is the Vault Uptown, which has some of the best restaurant views in Sedona. Their back patio space is unmatched, you really feel one with nature, in a super upscale white tablecloth kind of way. Which is most awesome.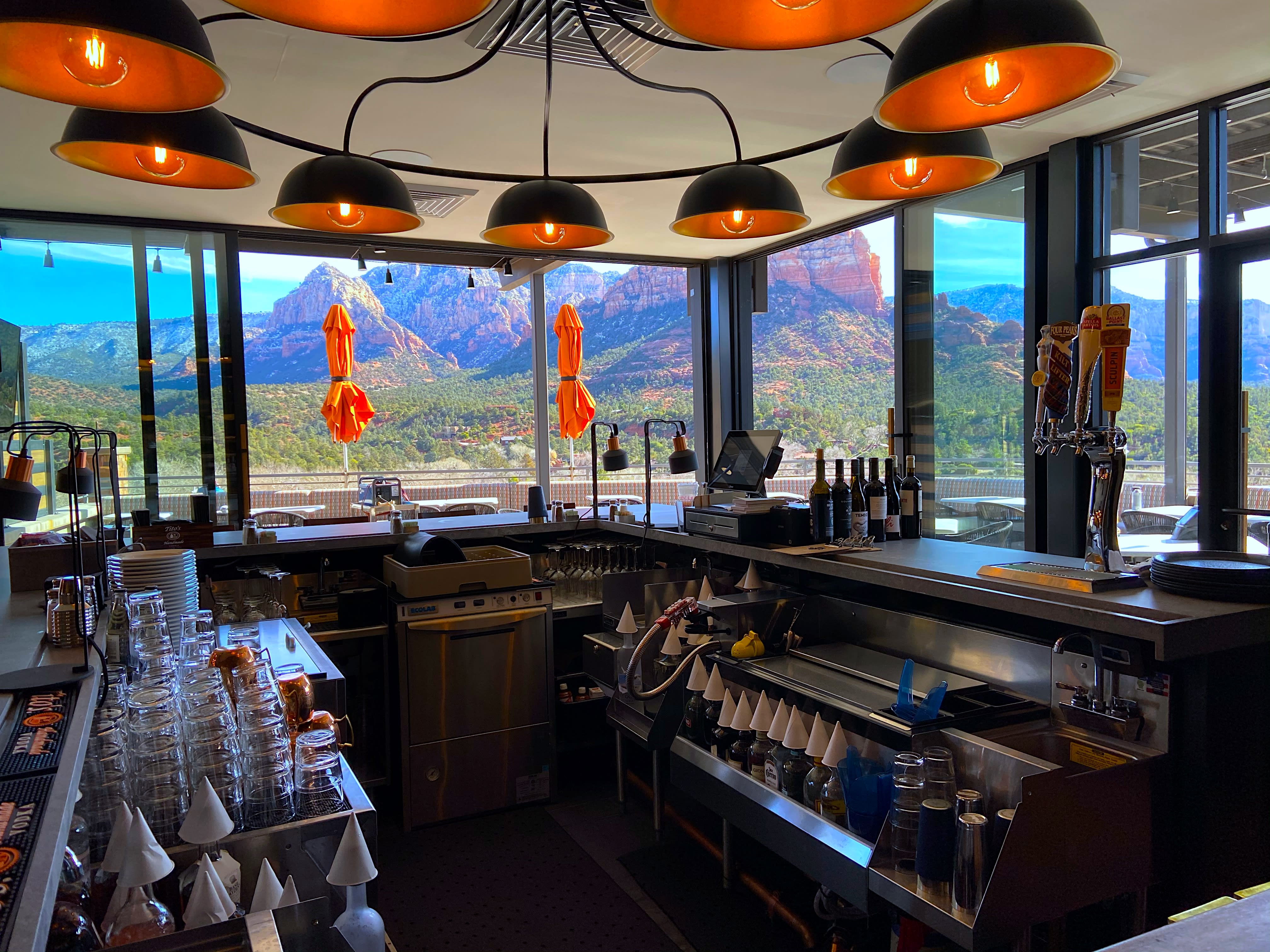 If you are looking to get out of the hot Sedona sun Pussycat Gelato is the place to chill out. Inspired by the cartoon Josie and the Pussycats, it is a 70's style gelato joint with throwback ice cream parlor vibes. It is a cute café tucked into uptown Sedona with an extensive array of Italian Gelato which is mmm.. just "così deliziozo" (so delicious).
Sound Bites Grill is a fun place with great live music and maybe even a little karaoke if you are feeling up to it. It is open more late-night, so it is more of a bar scene type of crowd. They have an assortment of live music played throughout the week, so be sure to check out their website to view their schedule to catch a good band.
All in all, Sedona is a great place to retreat to in times of relaxation and adventure. It has plenty of activities fit for any personality and trip vibes. I hope this guide is helpful and be sure to tag @tripvector on Instagram if you post any pictures at any of the destinations mentioned in the guide, we would love to see! Get started planning your getaway using the Tripvector app, enjoy Sedona ladies!